Fujifilm Fuji Instax Mini Instant Film 40 Prints for Polaroid 300 Camera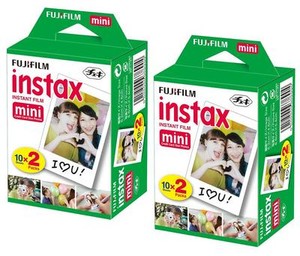 ---
Fujifilm Instax Mini 25 50s 7s Instant Film (2 x Twin Pack) 40 shotsImported from Japan, Sold and shipped in USAFRESH 7/2018 EXP!!!  Product Features

Daylight Balanced
ISO 800
Glossy finish
Works well with electronic flash
For Instax Mini 7, 25 & 50 series cameras
Ultra sharp, high speed film
Fast development times  
1 Year Limited Warranty 
2 x 20 shots = 40

***OVER 2,000+ SOLD*** 100% WORKING RATE!!!  BUY WITH CONFIDENCE!!!Product Description New in box  - full manufacturer warranty, we are FujiFilm U.S. Authorized Dealers. Buy with confidence! The FujiFilm Instax Mini Film (twin pack)Is an incredibly sharp, credit card-sized, daylight-balanced ISO 800 film made for use in Instax Mini Series Cameras. Recognized for its excellent color reproduction, the film has a glossy finish and is an excellent choice for general use, portraiture or even with electronic flash. It's also a fun film to use - easy to load, shoot and best of all - no wasted time at the lab wondering how your images came out. Due to its "mini" size, it is easier to carry, file and store when compared to larger, more traditional film formats..Specifications:Type:Film size: 3.4x2.1" (8.6x5.4cm) approx.Image size: 2.4x1.8" (6.2x4.6cm) approx.Speed: ISO 800Saturation: ExcellentGrain: GoodSharpness: Sharp

ITEMS MUST BE PAID WITHIN 12 HOURS, Failure to pay within that time frame, will result in your order being CANCELLED and a Non-Payment Case opened against you.
For your convenience, we accept VISA, MASTERCARD and PAYPAL as payment methods.
When you are using Paypal, you must go through our secure verification system, for which you will have to supply a verified shipping address with a matching telephone number.
Paypal: We only can to ship to Confirmed addresses. We may contact you for additional verification for payments made by unconfirmed Paypal addresses.
If paying by PayPal, we can only ship to the address that is listed in your PayPal account. No requests for alternate shipping addresses will be accepted.
We do not accept paypal payments from accounts outside the usa.
For security purposes, Orders over $100 may require additional verification if shipping to a different address then that of the billing and Credit Card is used as payment method.

We strives to ship every order as quickly as possible.  Please allow 1-2 business days for all orders to ship out from our warehouse.
Standard shipping within the US usually takes 2-5 BUSINESS days, depending on your location.  However, if your item contains any type of Lithium batteries, it will take 4-8 Business days. 
If you need quicker delivery time such as NEXT DAY, we encourage you to contact us after you place the order so we can arrange quick delivery service.

If you have ANY Problem(s) with your order, we ask that you PLEASE contact us before you Rate us or before Getting involved.