Mama I Want To Sing DVD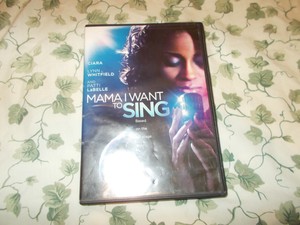 ---
Comesfrom a smoke free and pet free home.
I do combine shipping.
Below are the price adjustments for shipping from theoriginal shipping cost of each additional item. The first item is at regular shipping price.  Each addition item will be adjusted using theprice scale below.
$1.00 -$4.00--half the price for each item
$5.00-$9.00--$1.00 off
$10.00 & up--$2.00 off
Shipping
All items are sent economyshipping, which takes 4-13 business days.   I don't pick the date it will come to you; it is based on when the postoffice will delivery it. This is the cheapest shipping.  In order to keep prices low, I ship thecheapest. 
If you want your items shipped toyou sooner listed below are the priority rates. Just send me a message asking for this. Wait till I send you an invoice, then pay for your item.
PriorityRates (up to three days)--
small packages (ex. gloves) $7.00
medium package (ex. shoes) $13.00
large package (ex. coat) $18.00
All items 13 oz. or less will shipfirst class.  14 oz. or more goes parcelpost this can take 6-8 business days.
Ifan item is sent first class or priority, it normally takes 2-3 business days(not including Saturday and Sunday) some post offices are now closed onSaturday.  Due to traveling distance,packages sometimes getting lost in transit; it may take longer than the duedate.  I have no control over the time ittakes to get to you once I have marked it mailed and shipped it.
All shipping and handling prices include postage and packagingmaterials.  Please understand that itcost me to securely package your item. Any online business will charge you these prices, or they can not stayin business because they will loose money.
I don't do tracking on items less than $10.00.  If you want tracking it will be an additional$1.05.  Please let me know so I can addit in to your shipping cost.
I keep my prices low by starting outat $0.99 for most items.
Ifyou have any questions, please send me a message before bidding or paying.
If for any reason you are not satisfied with an item,please send me a message before leaving negative feedback.